Fautaua (Le)
la-foa
francais

,

tahitienne
With an experience of 22 years, THE FAUTAUA, welcomes you to La Foa from Monday to Sunday (from breakfast to dinner and meals at all hours) in a family atmosphere.
Jean-Paul and his team will ravire your taste buds thanks to traditional cuisine mélant the Caledonian and Tahitian dishes.
You can enjoy among other specialties such as Tahitian salad, octopus curry and clam and crab salad …
You will have the chance to taste these dishes in a beautiful fare, or a accéssible terrace for smokers. A billiards room is also available.
Every lunchtime a different dish of the day to you!
In addition to a quality catering, FAUTAUA, offers studios and bungalows in order to enjoy our wonderful broussarde region.
THE FAUTAUA
1 Street Reverend Father Jean
98880 The Foa
Phone : 44.35.00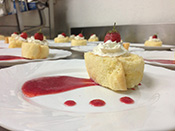 RATES HOSTING
Rates for one night
⁃ room :
⁃ – 2 rooms with 3 single beds : 4 500 frs the room
⁃ – 1 room with 4 single beds : 6 000 frs the room
⁃ Studio :
⁃ – 2 studio with 2 single beds : 5 500 frs the studio
⁃ – 1 studio with 1 double bed : 5 500 frs the studio
⁃ Bungalow :
⁃ – 1 bungalow 4 places : 1 dual bed and 2 single beds including 1 bunk dual bed : 8 500 frs the bungalow
⁃ – 1 bungalow 3 places : 1 dual bed and a bed single : 8 500 frs the bungalow
RATE OF EXTRA BED : 1 200 frs
Hours and days of opening
fumeur
non_fumeur
terrasse
parking_proximite
wifi
handicape_acces
Booking
Signal an error